Our lab uses a combination of mouse genetics and in vitro experimental approaches to understand the basic molecular mechanisms of vascular development and disease. A main focus of the lab is to elucidate the molecular pathways associated with the vascular disorder Hereditary Hemorrhagic Telangiectasia (HHT). In particular, we aim to identify TGFb downstream targets that are involved in the formation of arteriovenous malformations (AVMs) that occur in HHT patients. We are also interested in defining the mechanisms of blood vessel fusion, as well as identifying genes with novel roles in vascular biology. Our favorite vascular model is the mouse retina, but we also investigate embryonic development.
Understanding fundamental aspects of blood vessel fusion (anastomosis)
hereditary hemorrhagic telangiectasia (HHT): molecular mechanisms of arteriovenous malformations (AVM)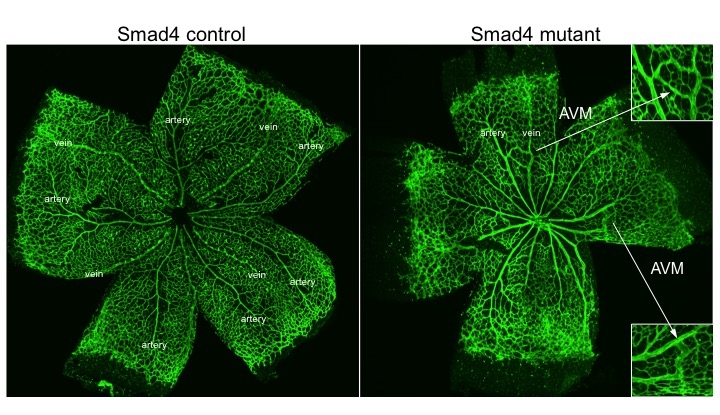 Postnatal deletion of Smad4 in endothelial cells causes AVMs to form in the retinal vasculature. Isolectin-B4 (green). Also notice reduced vessel outgrowth towards the periphery, and enlarged vessel diameter in arteries and veins in Smad4 mutants.
Uncovering new genes and pathways involved in vascular biology
A previously uncharacterized vascular gene displays higher incidences of artery-vein crossovers when mutated, similar to patients with vision loss due to branch retinal vein occlusion (BRVO). P7 retinas from control (A) and mutant (B) mice. Isolectin-IB4 (red).